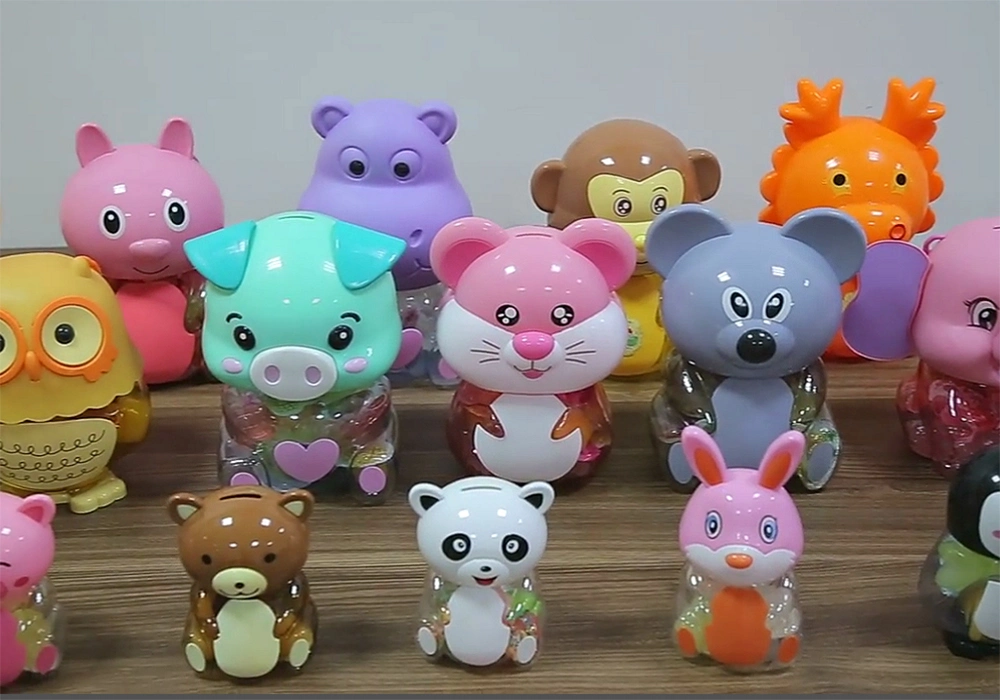 Carton Size
| | | | |
| --- | --- | --- | --- |
| Product name | Carton Sized(m) | Product name | Carton Sized(m) |
| Mini Yellow Duck Jar Jelly | 0.48*0.307*0.208 | Yellow Dog Jar Jelly | 0.52*0.335*0.26 |
| Mini Rabbit Jar Jelly | 0.48*0.307*0.208 | Yellow Chicken Jar Jelly | 0.525*0.34*0.29 |
| Mini Blue Cow Jar Jelly | 0.52*0.32*0.18 | White Panda Jar Jelly | 0.535*0.32*0.26 |
| Mini Owl Jar Jelly | 0.535*0.35*0.17 | Pink Pig Jar Jelly | 0.535*0.32*0.26 |
| Mini Blue Flower Bear Jar Jelly | 0.48*0.325*0.163 | Yellow Cow Jar Jelly | 0.54*0.36*0.28 |
| Mini Coffee Bear Jar Jelly | 0.48*0.325*0.163 | Coffee Monkey Jar Jelly | 0.485*0.345*0.275 |
| Mini Yellow Rabbit Jar Jelly | 0.48*0.307*0.208 | Owl Jar Jelly | 0.49*0.355*0.24 |
| Mini Pink Bear Jar Jelly | 0.48*0.325*0.163 | Orange Hamster Jar Jelly | 0.465*0.365*0.275 |
| Mini Pink Rabbit Jar Jelly | 0.48*0.307*0.208 | Orange Dragon Jar Jelly | 0.525*0.35*0.31 |
| Mini Coffee Bear Jar Jelly | 0.48*0.325*0.163 | Yellow Duck Jar Jelly | 0.485*0.325*0.305 |
| Mini Pink Pig Jar Jelly | 0.48*0.325*0.163 | | |
| Mini Owl Jar Jelly | 0.535*0.35*0.170 | | |

About Qinqin
Since 1990's, Qinqin has been specializing in R&D, production and distributing of jelly and puffed food.
In Jinjiang City, Fujian Province where our headquarters bases, we started our business, under the brand Qinqin.
Through years' dynamic development, Qinqin has been a leading brand, got top 1, 2 and 4 market share separately for prawn cracker, Jelly and wheat puffed snack in China. Meanwhile, Qinqin is awarded with "China Well-Known Trademark", "the Top 500 Chinese Brands", "China National Food Industry Leading Enterprise".
Apart from brand Qinqin, OEM plays an important role in business scope. Qinqin firstly started OEM with Pringles from 2005. Because of quality, price, leading time and service, it attracts more and more eyes now.
In 2016, Qinqin listed at Hengseng Index and now owns 10 production bases, with total of 2000 employees.
The company is certified with ISO9001, ISO22000, HACCP.
Innovation, Quality, Delicacy, is our business identity. To reach such excellency, Qinqin has been investing handsomely on product, production standardization, and lean management. In 2019, ORIHIRO, the top one konjac drinking jelly manufacturer from Japan cooperated with Qinqin, introducing its last innovative production line with state-of-the-art technology to China, with which, Qinqin provides market with preserver free Jelly. In the same year, SAP was applied internally for workflow efficiency. This enables us to serve our valued customers even better.
Qinqin practices its company Philosophy always and fulfills its mission as a company that brings Better Food, Better Life via delicious and healthy products.